What is Lynx, and what do we do? Lynx is an all-in-one property automation platform that focuses specifically on hospitality and can easily integrate with any existing property management software (PMS). From single family vacation rentals to motels and hotels, Lynx gives property managers the ability to streamline their operations through the use of keyless access using digital locks, automated operations, and guest experience workflows so you can monetize services while your guests enjoy comfort and convenience. Whether it's using our contactless self check-in or our easy guest check-out codes, our software helps you keep guests safe and satisfied in addition to helping you maximize profits through selling services and streamlined operations. Let's explore how. 
Outshining the Competition
While competitors may try to imitate Lynx's efficiency-boosting features and gorgeous user interface, they are unable to achieve the same level of intuitive design and reliability that makes Lynx the standout amongst its peers. Having created our platform with the hospitality industry in mind, the Lynx team understands and addresses the unique challenges that arise in this space with instant bookings and last-minute reservation changes. Therefore, Lynx creates access codes and digital keys as soon as the reservation is confirmed and not at the time of check-in, removing the dependency on the internet. No one offers reliability like Lynx.
Features Are Forefront
Device Integrations:

Lynx is a hardware agnostic software, using IoT technology to connect with over 300 smart devices, including locks, thermostats, noise detection sensors, air quality monitors, smoke and leak detection sensors, and more. One single dashboard manages thousands of devices from hundreds of manufacturers. From contact-less self check-in to reduced utility bills to protecting your asset, we've got you covered. 

Automated Workflows: By automating workflows through easy notifications via text or email, we've eliminated the need for every single user to download yet another app. If your housekeeper, inspector, or maintenance person has a flip phone, that's okay. They will still be seamlessly notified when guests check-out. Managers will have a real-time view of the field operations on the Lynx dashboard.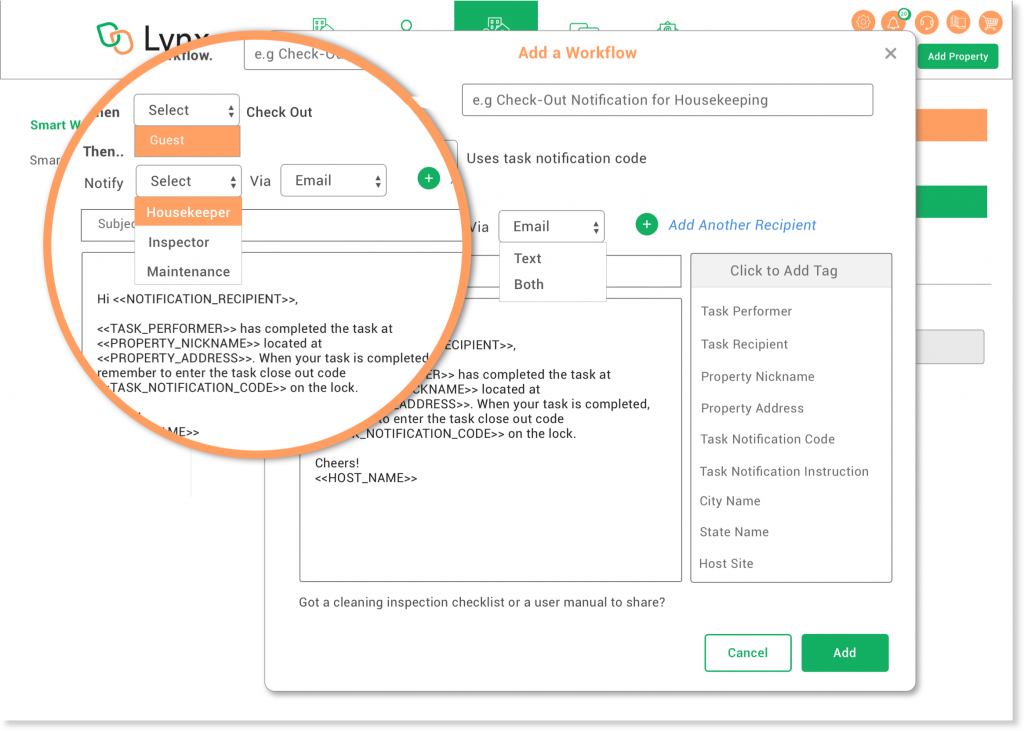 Groups:

Lynx offers the ability to group both properties and individuals to manage entire portfolios with ease. Want to provide access for a housekeeper to be able to clean all of the properties in one city? Easy, they will receive one code to access all of the properties in a given area. The use of this code will trigger the workflow notifications for appropriate parties, notifying inspectors or management once each property has been cleaned.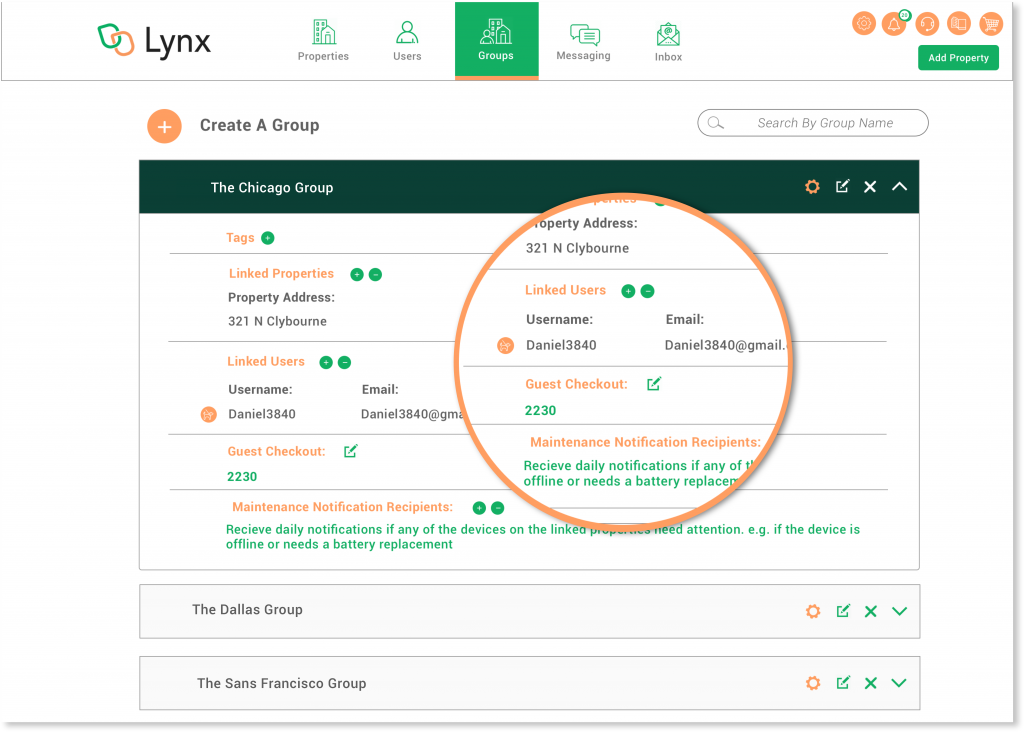 Filters:

Managing large portfolios is our specialty. Our software's filtering tools enable you to instantly see things like which properties have guests, which properties are not yet ready for guests, and which devices are in need of maintenance to ensure they remain online and have the battery life to alert you if anything requires attention.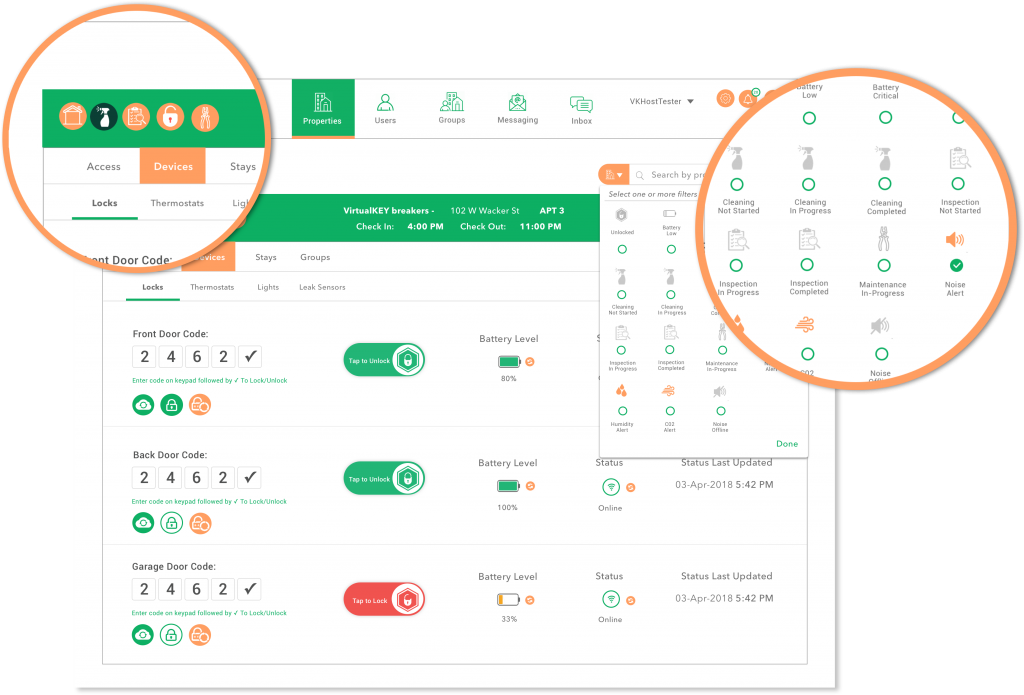 Guest Check-Out Codes:

Guests will receive a code to enter at check-out that notifies appropriate parties via text or email that the property has been vacated and is ready for a flip. Guests can also check out directly through our platform, which does not require them to download an app. 

Customize Guest Journey & Monetize
From the time the guest books with you to the time they leave you a review, Lynx has all the elements of automation. Two-way text messaging and emails are just the beginning. Lynx allows you to text the guest a link to their digital mobile key. Because Lynx is a web-based platform, it opens on the browser of the guest's phone, so they don't have to download an app. Our platform also makes it easy to customize any guest-facing materials with your branding, logo, and colors. Monetize early check-in, late check-out and book gap days. When the guest makes a purchase, Lynx will automatically adjust the time stamps on access codes and within the digital key, earning you more profits with no extra work!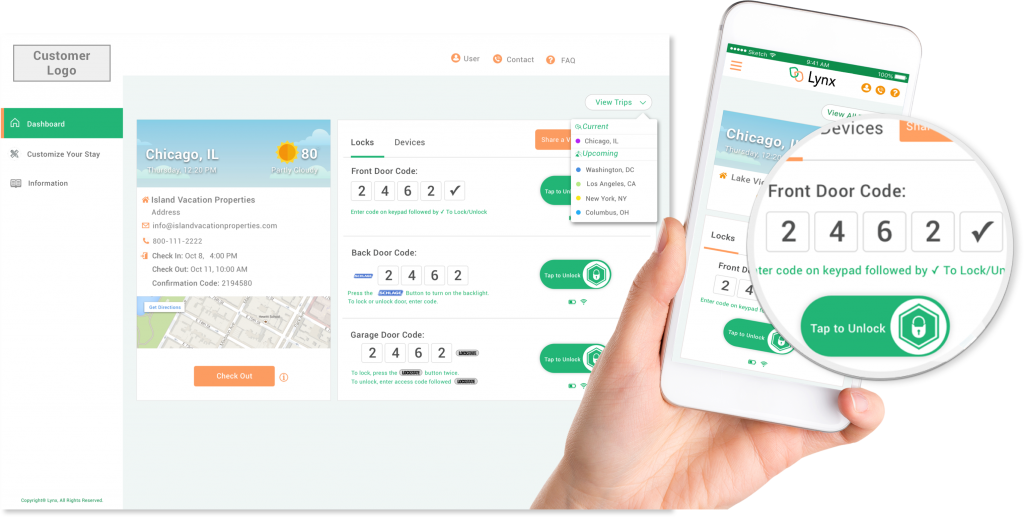 Lynx was built with hospitality integrated into its core. The features on our all-in-one platform provide a seamless experience for you, your employees, and your guests. We've automated the most challenging aspects of hospitality property management to make your life easier and your business more profitable.