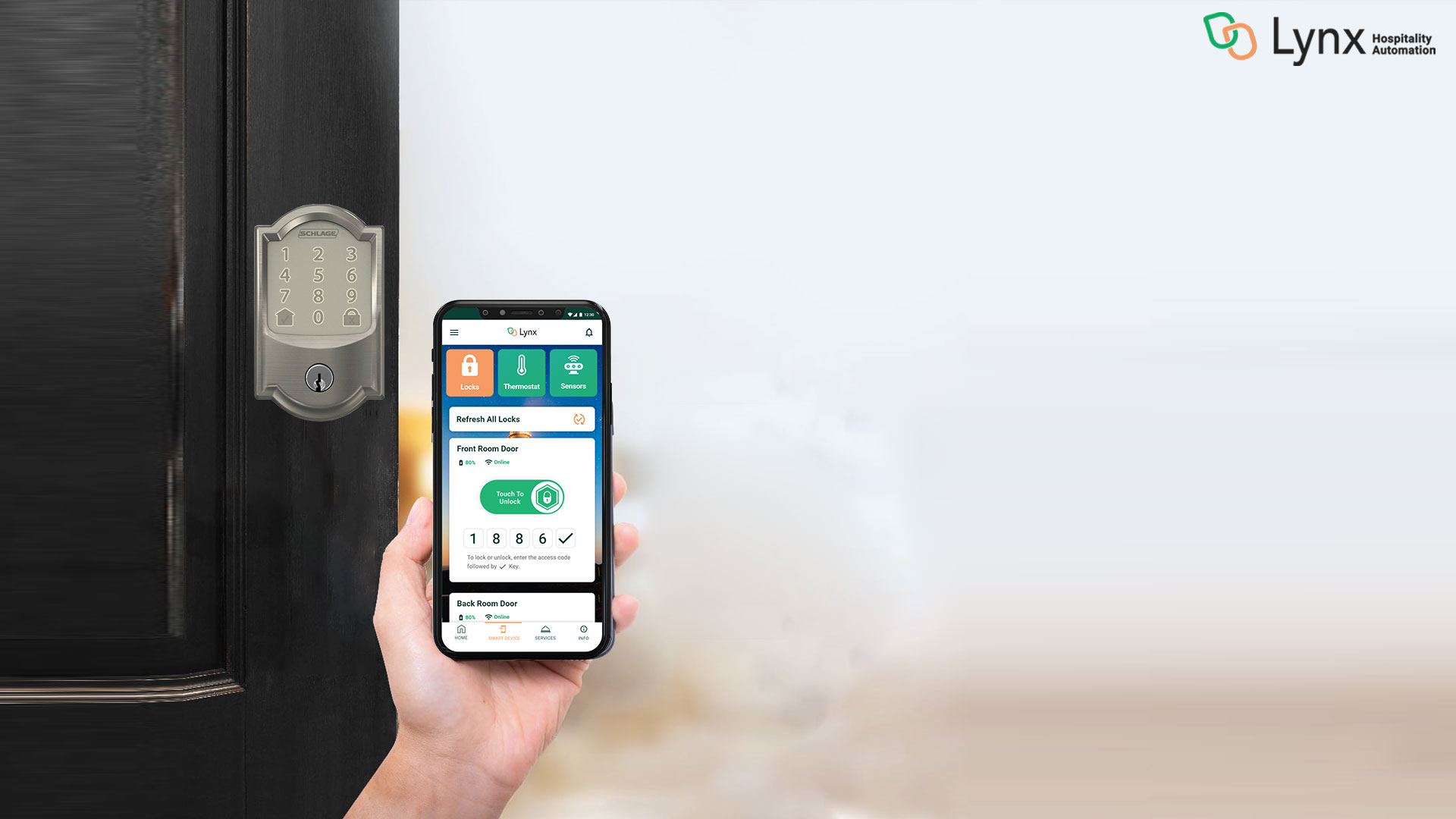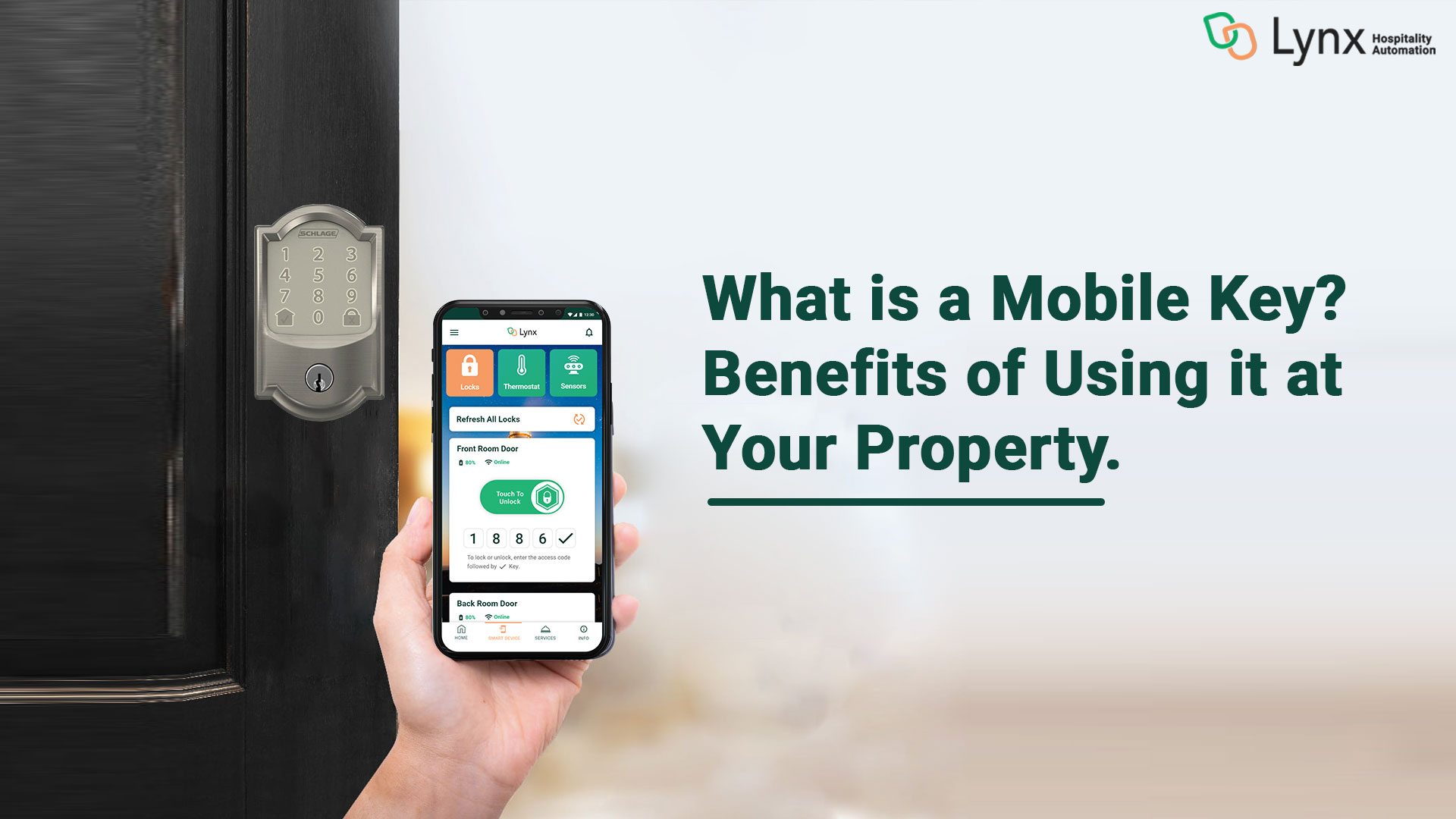 The hospitality industry is exploring mobile keys. Seeking to drive guest loyalty and direct bookings, plus improve efficiency so staff can spend more time offering premium guest services. With mobile access gaining traction, we see opportunities to enhance the guest experience and make their arrival even more seamless by enabling access to parking garages, lobby areas, elevators, etc.
What is a Mobile Key?
The mobile key also commonly known as a digital key or virtual key allows guests to unlock a door using a mobile browser or native mobile app. This means safer, more convenient, and more sustainable room access than a traditional plastic room key. ​​Using WiFi, Bluetooth, or NFC (near field communication) technology, mobile key applications turn a guest's mobile phone into their room key. 
If we look back at history, the once-revered plastic key card was a brilliant revelation to the world of hospitality. Over time we got to experience that although they are reliable & cheap, they are prone to risks like loss, theft, cyberhacking, and demagnetizing. In addition, these cards must be disposed of with care increasing disposal costs and waste at hotels.  
The recent boom in Bluetooth, NFC, and internet-enabled room keys has been a definite winner for hospitality with large hotel chains announcing immediate conversions to keyless entry. Much of the migration to this technology is attributed to business travelers and premium members of loyalty programs. 
Mobile key solutions work best when integrated with the property management system (PMS) to automate room key delivery for an efficient, secure, and modern check-in process that elevates the guest experience. However, Next-generation mobile keys in hotels don't use RFID or Bluetooth anymore. Instead, it's based on the Internet of Things. The only thing your guests need is a good working phone that is connected to the internet via WiFi or 3G/4G/5G. No downloading an app. Hotels can simply text their guest a link to the digital key instead of using modern IoT software like Lynx Automation. Here are the types of locks that enable mobile keys –
RFID Locks
RFID stands for radio frequency identification. Businesses such as hotels, large corporations, dorms, and hospitals commonly use these locks and keys to restrict or permit the access of large amounts of people to specific rooms and areas. Each key card has data encoded on a machine-readable RFID chip. That chip is an essential piece of a computerized security system.
Advantages of RFID Locks – 
Data on keycards is encrypted hence maintaining the lock system security.

RFID cards can be programmed and reprogrammed as the aspects of security requirements change
Disadvantages of RFID Locks-
Plastic room keys are frequently tossed into handbags, pockets, or briefcases without a second thought and, as a result, they are easily lost or compromised. 

RFID only works from a close distance, which means the hotel and staff can't lock the door remotely so you can not remove your front desk. 

You still incur the recurring cost of replenishing lost or unreturned key cards

Mobile Keys are NOT supported.

Staff and Guests both need the plastic card to access the rooms still requiring physical interaction with the front desk staff.

Hotels must maintain 24×7 front desk staff.

The audit trail is not available
Bluetooth Base Smart Lock
With smart locks, guests just need to download a native mobile app and they can check-in/out without any hassle.
Once a guest makes a booking, a booking confirmation email is sent to the guest, containing a link to download the mobile key app before arrival. If the guest fails to download the app, the mobile key won't work. Upon guest arrival, the PMS automatically lets the mobile key platform like Lynx Automation, Assa Abbloy, Salto know the guest has completed the pre-check informalities and the mobile key platform responds by sending a secure digital key to the guest's mobile phone. The guest can then use the mobile key app to unlock the door with the tap of a button on the phone screen, or simply by holding the phone close to the door. The mobile key can also be used to access other hotel facilities, such as the gym, elevator, or parking garage. The digital key is disabled at check-out. 
Mobile keys can be implemented without replacing existing lock systems, making this exciting technology easily accessible to independent properties. Existing locks can be upgraded by installing a Bluetooth device, for example, enabling mobile key compatibility while also maintaining keycard functionality.
Advantages – 
An Efficient, Personalized Check-in Process

Improved Security

Improved Guest Experiences
Disadvantages –
A native app is required and your guests must download it prior to the start of the stay.

Most lock manufacturers offer two apps for android and iOS but the guest using a windows phone is not supported. 

App personalization and branding is difficult and expensive

Most guests feel annoyed when asked to download the app.

Bluetooth only works from a close distance, it means the hotel staff can't unlock the door remotely.

Cannot eliminate front desk 

Real-time audit trail is not available. 
Wifi Lock
Wifi locks are somewhat similar to Bluetooth smart locks but instead of using Bluetooth connectivity they use WiFi. Locks can be accessed over wifi from any location. Locks also connect back into the cloud, meaning real-time information is available in the form of an audit trail. Software platforms like Lynx Automation will track when the guest checks out based on their real-time activity and can trigger workflows to notify housekeeping.
Advantages – 
You can unlock your door from anywhere in the world as long as you have an active WiFi connection on your phone.

The guest is not inconvenienced by downloading an app. The app opens on the browser of your phone.

Personalize and White-label the guest app with your brand effortlessly.

WiFi smart locks offer real-time alerts for whenever your lock activates or unlocks. This is a great way to know when guests checked in, housekeeping was completed, etc.

WiFi smart locks allow you to grant time-based access. This means that you can program keys to work only at certain times, which is incredibly convenient for allowing workers, deliveries, guests, or housekeepers in only at specific times. Software like Lynx Automation can access your guest reservations from the PMS and automatically create digital keys for the duration of the guest's stay.
Disadvantages – 
The property must have strong WiFi connectivity

The locks need battery replacement once or twice a year
Conclusion
As technology evolves we can expect much more than just mobile room keys to enhance the guest experience. Mobile will deliver opportunities to reach out to over 6 billion people, provide faster holiday & room bookings, add more touchpoints for revenue, and offer even more personalization for guests. Integrating keyless entry into your property is the new norm of our industry and it is here to stay.
Our experts will help you understand which lock will be the best for your property to know more book a 15-minute free demo.