Lynx vs PointCentral
Lynx is a future ready automation solution
that is robust, reliable, scalable and we
innovate together with technology.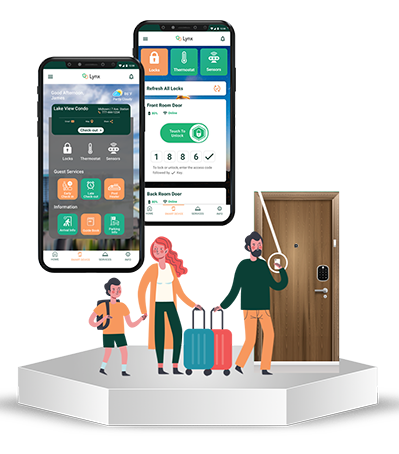 Make the right choice
Choose a Perfect Property Automation Platform that Grows with You
Lynx
95% of all lock brands
Zwave, Algorithm, WiFi, & Bluetooth
4 Digit Same as Phone's Last 4 Digits
Deadbolt, Lever, Mortise & Lockbox
Samsung, Vera, Nexia
Internet, WiFi & Cellular
300+
Available with multiple brands
25+
Yes
Yes
Monetize Early Check-in, Late Checkout
Of all the guests in the party
Impeccable Hospitality Automation Solutions
One-Stop-Shop for Property Automation: Pre-Programmed Hardware, Installation, and Management Dashboard for Smart devices like Locks, Intercom, Noise, Thermostat. Guest Portal with your brand and ability to Upsell Services. "Real-time notifications from guests and staff for Workflow Automation".
Guest Service Monetization: Monetize your guest services and earn more.
Save 30% in Operations: Notifications for Cleaners, Inspectors, and other Staff.
Save 15% on Utilities: Set smart rules for your Vacant/Occupied property using Lynx and save 15% on utilities.
Stay Extension Automation: Get more nights booked without doing any extra work.
Increase Direct Bookings: We collect real emails from all the guests in the group.
Schedule A Demo
What our clients have to say?
"We love the two-way integration between Lynx and Guesty. Lynx was ahead of the technology curve when we started with them several years ago and has stayed relevant by adding so many new integrations and features continuously. Lynx is instrumental in Hoste's vision of the guest and owner journey."

Evan, Co-founder & CEO
"Lynx allows Sextant Stays to create a fully automated, self-check-in experience for our guests--from the parking garage and lobby to the elevator and apartment. Lynx's support is always available, and they're constantly adding new, advanced features that make them the best choice for any professional operator."

Andreas, CEO
"We've been a happy customer with Lynx for several years. We've been able to deploy Lynx in the multiple cities we operate offering a consistent Self-check-in experience to our guests. Lynx has scaled well for us and they have solid customer support as well."

Mickey, Founder & CEO
"We love Lynx and the ability to integrate with a variety of devices. The technology features and capabilities are fabulous. Being able to onboard a new home without replacing current smart devices has been invaluable. The reporting and features on the dashboard are constantly expanding and we love being able to implement these options in to our processes."

Jennifer, President & Founder
"We have Lynx in every market we operate. Lynx allows the corporate team complete visibility into the field operations in real time. Our guests don't have to download an app, they love the convenience and our owners love the extra security."

Brian, COO
"What makes Lynx different is its deep 2-way integration with Streamline. Lynx allows us to automate operation workflows, and upsell concierge, and is helping us digitize the guest journey. Most of all, Support and Account Managers are very responsive, which in our industry is worth more than GOLD!"

Leslie, CEO
"Lynx is absolutely 'key' to our business model. Using Lynx has completely revolutionized our guest and employee experience for the better. We are grateful for the product, and the way it typically functions."

Property Manager, The Inn
"Lynx is a futuristic platform solving the real need for growing VRMs."

Eric, Founder & CEO
"Lynx is a single dashboard that works across all our lock brands. Best part: They make us more revenue and we love their customer support!"

Jeff Paglialonga, CEO

Inc.5000 Company
"We were manually coding Schlage locks which was time-consuming, expensive and we had manual errors. Instant bookings were painful to accommodate. Lynx has changed that."

Billy Quaranto, CEO