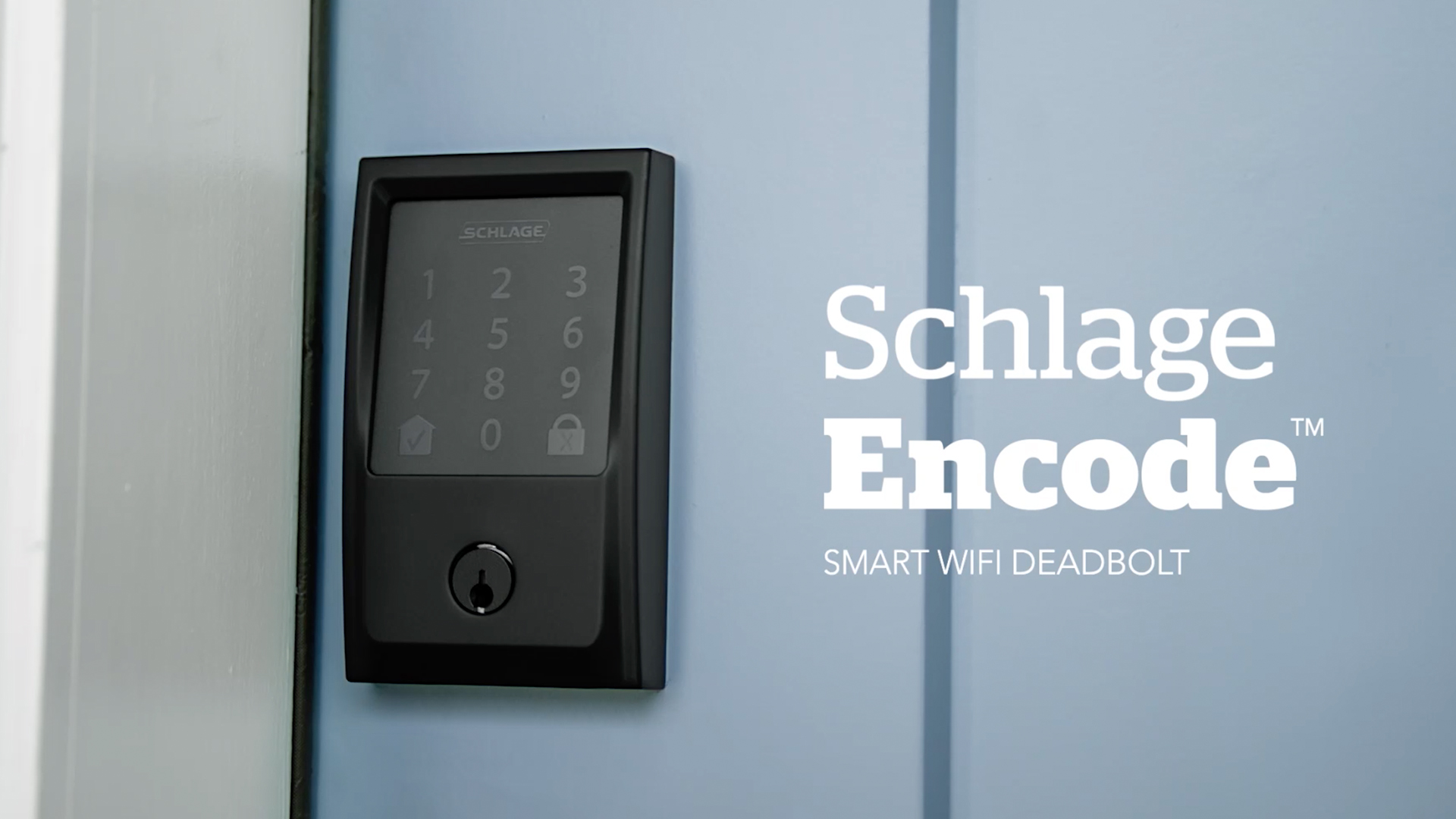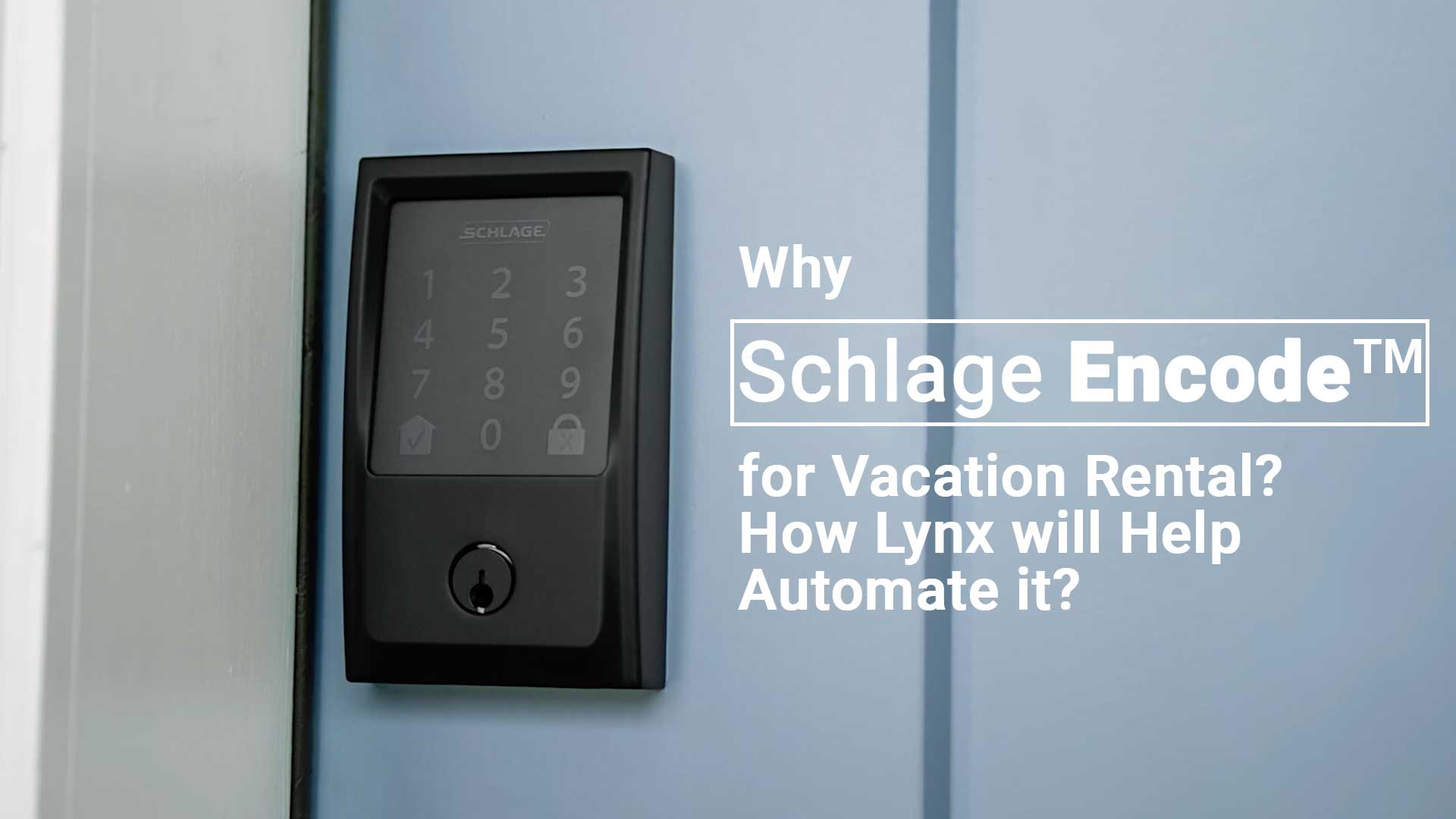 Since the beginning of the pandemic in 2020, check-ins powered by contactless technology have become the new normal for vacation rentals across the globe. Guests now prefer keyless solutions over in-person handovers and so do the vacation rental managers and hosts.
It's not surprising: modern locks offer a more flexible, streamlined, hygienic, and safe solution for both property managers and guests.
What is Schlage Encode?
The Schlage Encode™ Smart Deadbolt connects to your vacation rental from anywhere in the world. It does so with a built-in wireless access module. No Hub Required. No cellular data connection is required. You can link the Schlage Encode lock with IoT automation platforms like Lynx Automation to grant access to guests automatically. It's total control and peace of mind and you have to do nothing extra.
Sturdy and stylish, Schlage locks have been the household name for generations. The Schlage Connect Smart Deadbolt includes an additional layer of encryption and continues to remain a trusted brand amongst all the lock manufacturers. Some of its highlight features include:
Easy installation with only a screwdriver.

Simply connect to WiFi and the setup is complete.

Backlit touchscreen keypad.

Finger-resistant touchscreen prevents code peeking.

Up to 100 code capacity. Sufficient for hosts, vacation rental companies managing less than 100 homes as well as motels and bed & breakfasts.

Fits on all deadbolt locks.

Key override available.

Unlock a door via smartphone or Lynx portal from anywhere in the world.

Works with voice assistants including Alexa, Google Assistant, and EchoShow to execute additional smart rules for guest comfort.

Integrates with home networks including Samsung SmartThings, Apple HomeKit, Wink, American Standard, and many more but these are not required.
Why Schlage Encode for Vacation Rental?
1. Ease of Use for Guest & Staff – 
This one is about as simple to use as it gets. You enter your access code and unlock the door. One-touch Lock and Auto-Lock options are available for configuration.
While you can use the Schlage Home App to add additional user codes for Staff and Vendors the possibility of manual errors in entering information can be cumbersome. Also, if you manage several properties doing this for each lock can also impact your ability to scale your operations. If these are your challenges linking Schlage Encode lock to a powerful automation platform like Lynx Automation will make sense for your business. 
2. Ease of Maintenance
No hub and No additional devices used for communication to the cloud minimizes the hardware point of failures. Ensure you have internet connectivity and the locks have batteries, that's all! The Schlage Home App and Lynx dashboard show battery levels on the lock. Lynx also allows configuring maintenance alerts to automatically be sent to your maintenance team alerting for battery changes and when the lock is offline. 
3. Ease of Installation
Installing Schlage Encode lock is pretty simple: you only need a screwdriver. You do, of course, need to remove your old lock before installing this one.
This lock feels solid and built to last. There's nothing flimsy about the components of the lock, which make it perfect for a business application.
It's also conveniently designed to fit any standard-sized door.
Once the old lock is removed, following the installation instructions in the app or online is a breeze. 
4. Robustness of the App
You have two different app options for this smart lock. You can either use the Schlage Home app or the Lynx app. Both apps allow you to add users by giving them customized access codes and tracking each time your door is locked and unlocked. Lynx allows bulk options though as it is software designed specifically for hospitality. 
Without your lock linked to Lynx, the guest will need to download either the iOS or Android app. However, guests do not even have to download the app as Lynx automatically texts the guest a digital mobile key. This opens on the browser of the guest's mobile device.
With both apps, you have the option of sending "virtual keys" to other users through text or email. 
Schlage Encode Lock Key Specifications
How this Lock Opens the Door
Schlage Encode lock uses access codes to allow users entry into the door. Using a touchpad, you enter your unique access code. You will see a flashing checkmark, and the door unlocks. If the code is incorrect, you will see an X instead of the flashing checkmark.
Touch the lock button to lock the door. Pretty simple, right?
And, of course, you can also remotely lock and unlock the door through the Schlage Home app or the Lynx app.
You can even manually lock and unlock the door from the inside of your home. 
Remote Connection Type
Schlage Encode lock uses wireless signals to keep you updated about who's been accessing your door 24/7. As long as it's connected to your home's wireless network, you can check the status of your smart lock from anywhere using your smartphone.
Another plus is that it's got secure encryption between your network and the lock, adding one more layer of protection.
Power Options
The Schlage Encode Wi-Fi Deadbolt is battery powered, with a low-battery indicator built into the lock. It takes 4-AA batteries, with a six-month lifespan(according to the manufacturer).
Lock Type
Lock attachment or full lock?
It is a complete locking system and comes with a deadbolt assembly with the touchpad and other components. It is the safest type of lock when compared to those that simply attach to an existing lock.
Keys or Completely Keyless Entry?
This lock allows keyless entry with the option to use a physical key. If in case you do not pay attention to the low-battery warning, and the batteries do die in the smart lock, you won't be locked out.
Cons of Schlage Encode – 
Any device directly connected to WiFi (without a hub) will drain batteries faster. 

While 100 code memory capacity is plenty for most small and medium hospitality businesses, you will need more memory capacity if you have 75+ units/ rooms under management.

If you have a mortise or cylindrical lock on the door currently, the Schlage Encode lock would not be compatible. Contact

sales@getlynx.co

for a list of locks compatible with your door.
Automate Your Schlage Encode Lock with Lynx – 
Lynx Automation helps you to automate your Schlage Encode lock. No more worries about visiting the property physically to make the last-minute changes to the access codes. Lynx helps you to connect your smart home devices with your Schlage Encode Lock.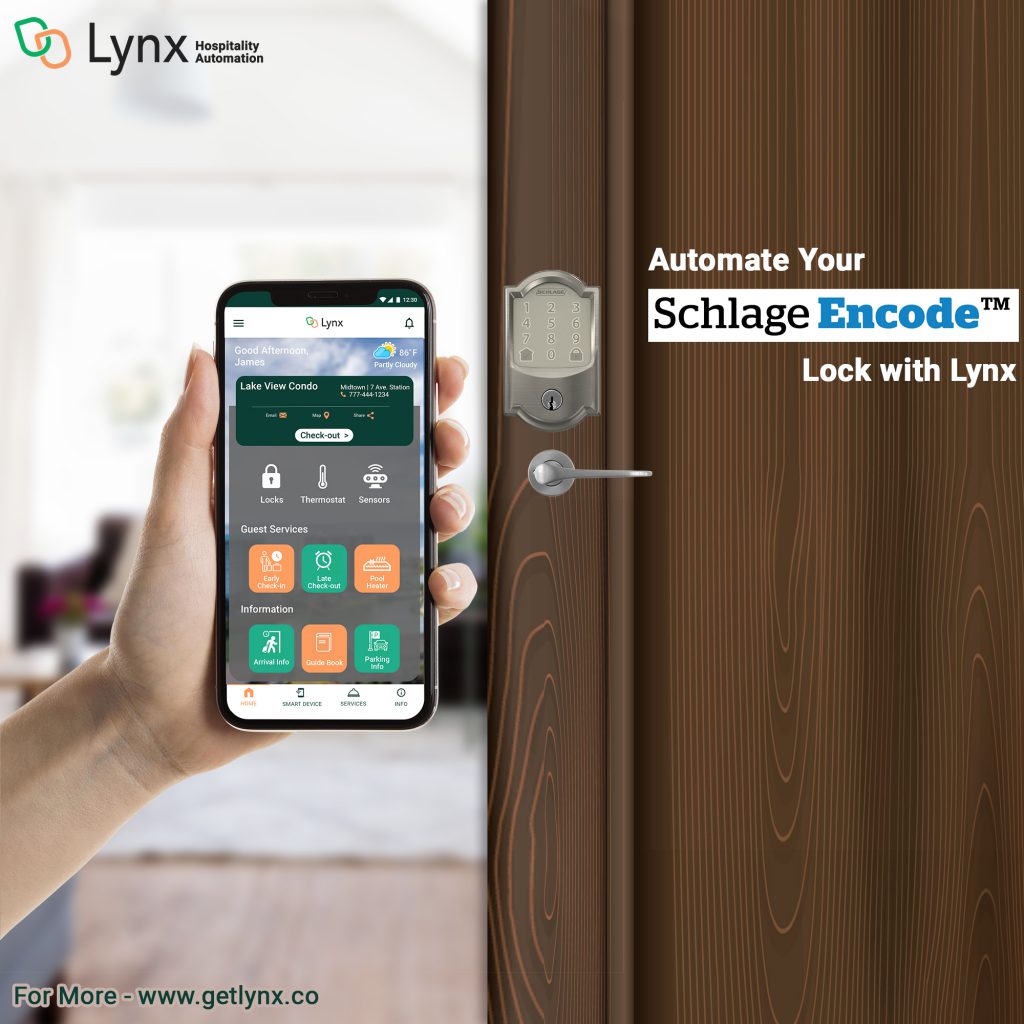 Here is how we do it – 
We help you install/ configure the Schlage Encode locks and we also work with pre-installed locks.

You can link your Schlage Encode Locks to Lynx on your own, in a few clicks, in less than 30 seconds per lock.

Link your PMS/ Booking sites, Setup your Automation Rules applicable to your business, and Go-Live! Onboarding Assistance & Training is available.

Lynx will automatically sync reservation and guest information. Lynx will create an access code for each guest which is the last 4 digits of the guest's phone number. The access code will have the time-stamp of the reservation.
To know more about how Lynx automates access code generation with Schlage Encode locks,  book a demo.