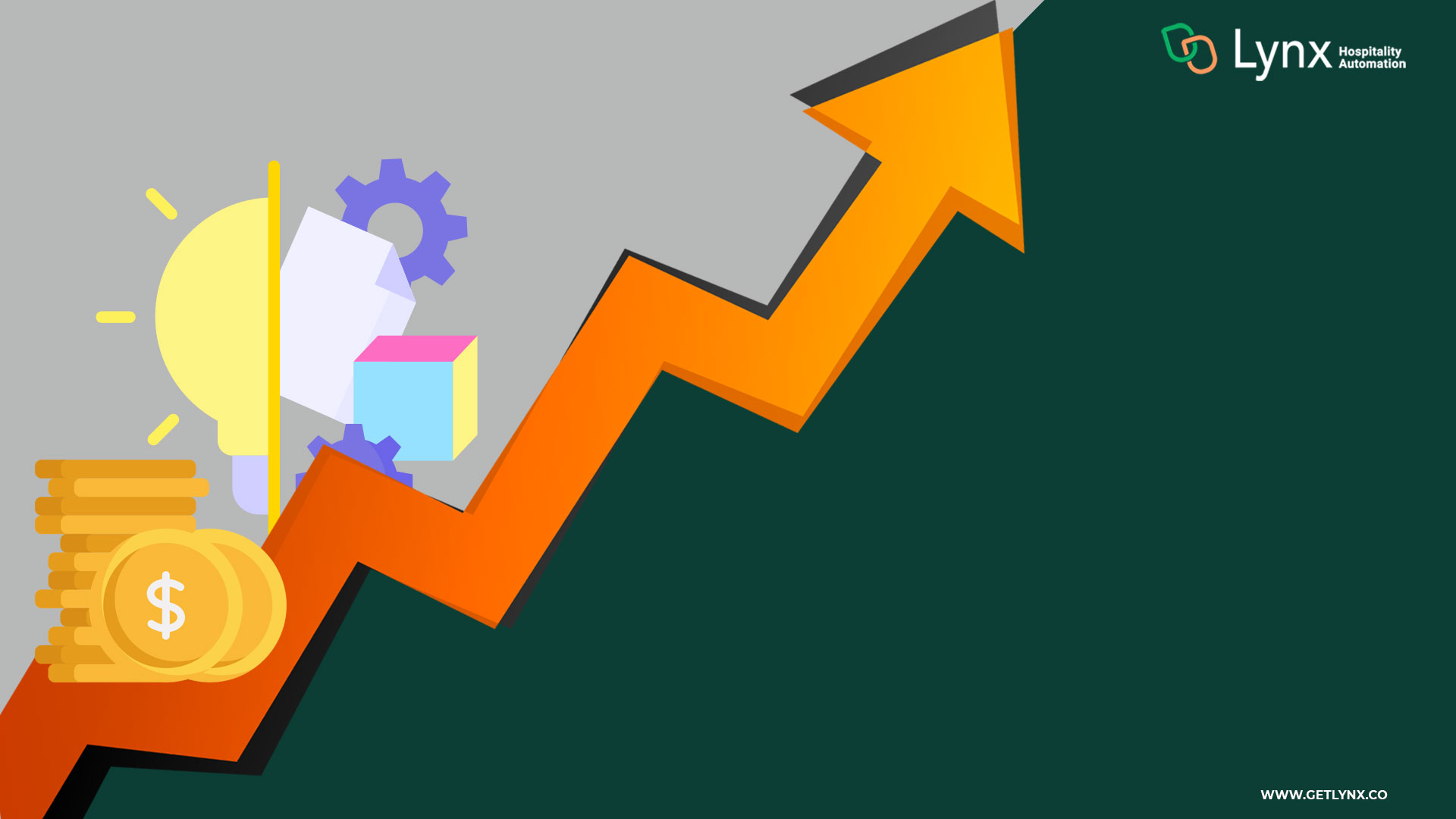 Whatever the short or long-term goals of your property, one thing is certain, they all coincide into a central, overarching pillar that is boosting the revenue.
Coincidentally, it might come as no stupefaction that one of the most rudimentary ways you can achieve that is through the efficient use of technology. Its extensions, after all, have permeated every aspect of our lives. 
Technology is advancing at a faster pace and it plays a crucial role practically in every industry. And the hotel industry is no exception. From a budget hotel to a global chain, there is no doubt that hotel technology increases revenue. Travelers are now more inclined towards services that are tech-driven, simple, and deliver personalized experiences. These changing needs of travelers are defining the way the hospitality industry operates.
Smart Technologies revamp customer experience and make your hotel services more personalized so that each guest feels valued. And it is critical because ensuring guest satisfaction can help you drive your revenues.
Here are effective ways to implement the latest technology to help the hospitality industry improve communication with their guests and thus enhance their overall revenue.
Your brand app – give guests easy access to all your services.
In a survey,  80% of guests stated if their favorite hotel had its app, they would use this digital channel. You can delight your guests by giving them everything they need on their phones. The guest app can include all the features that ensure guests will have a great stay: maps, directions, how-to videos, restaurant menu, opening hours, spa treatments, and other services available at the property.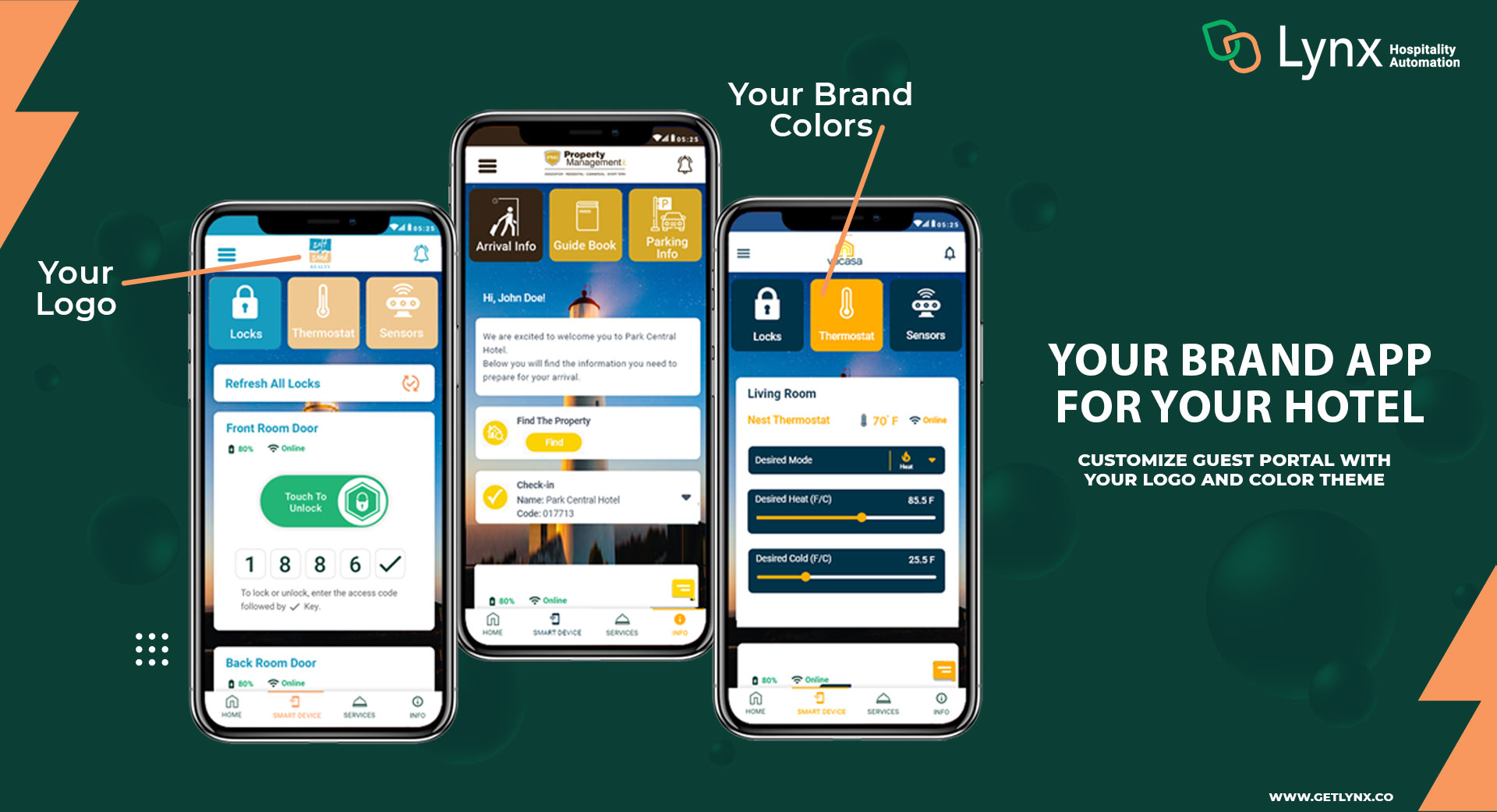 The digital concierge app also helps hoteliers earn more from every booking by promoting all services, offers, amenities, and events through it. The app can easily list services or add-ons that guests can book or request directly through the app. Push-notifications, in-app messaging, and ordering help streamline your communication with guests and increase revenue. If room services are available on mobile app orders increase by 18%.
Building an app costs a handsome amount and can put a hole in your budget. Lynx Automation's white label app fills this gap. We offer a personalized white label app which you can rebrand with your hotel's logo, brand color, and theme. Our white label app also incorporates digital mobile concierge to promote upsells and help you earn more.
Location-based push notifications – Personalized text and In-app
Customers who received location-based personalized contextually relevant messages are 59% more likely to purchase. You can use on-time and relevant push notifications to target specific guests with last-minute offers, promote special events or tours or notify residents living nearby about special offers at the property, thus increasing customer retention and local interaction.
A direct and effective means of communication to locals and previous guests is essential to capitalize on this source of revenue. New revenue streams could lead to revenue growth of 20%-30% per annum.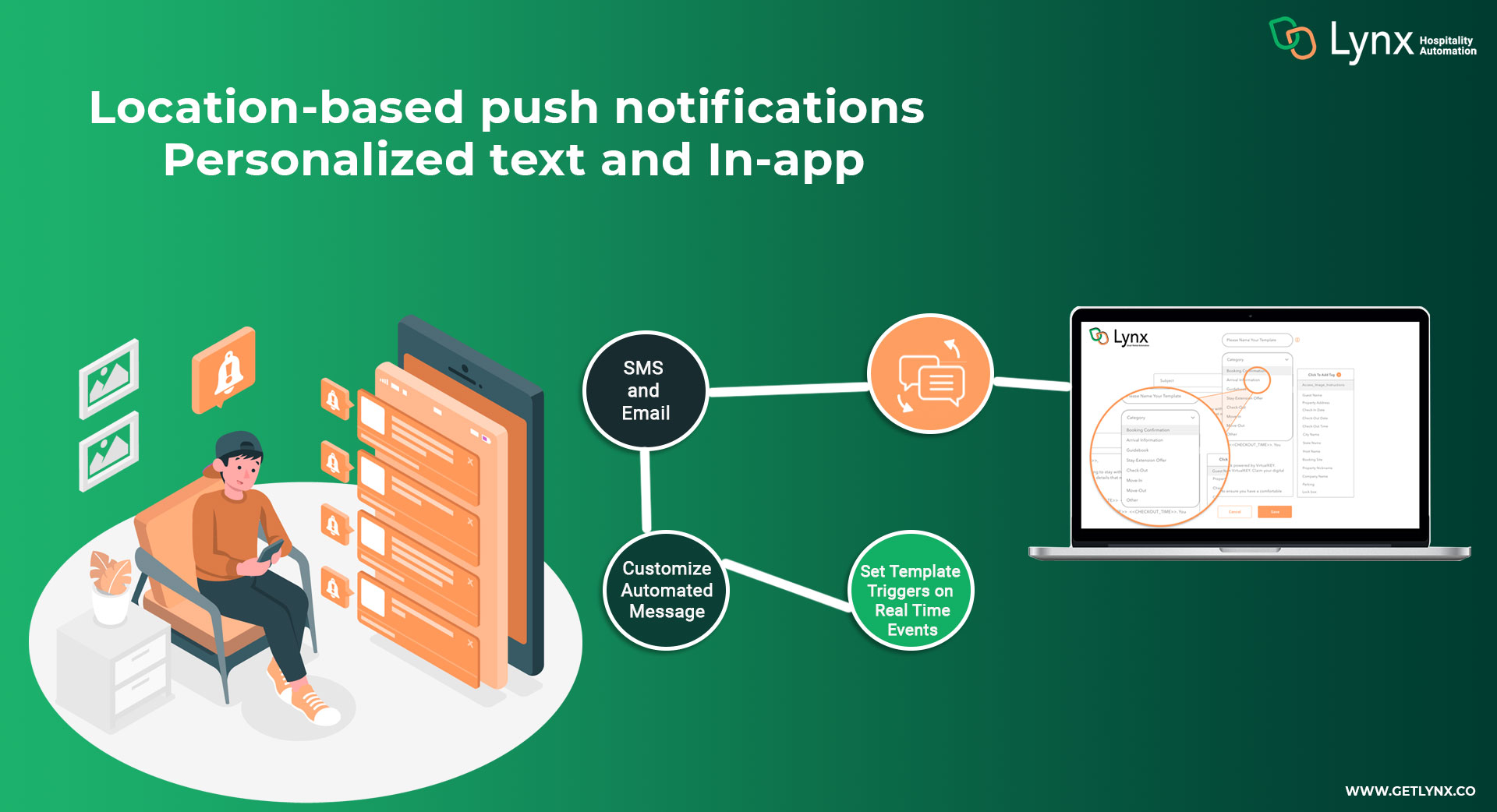 Lynx offers personalized text message templates and push notifications based on real-time event triggers to make it easy to manage your marketing activities.
Front Desk Technology
The hotel front desk (concierge) is responsible for your guests having a great, problem-free stay. But if you integrate it with AI, you can minimize wait time and increase efficiency in the following ways: computerized front desk helps in performing check-in and check-out duties or may remove front-desk, helps in confirming room availability and reservations, automatically integrates the guest bills with phone accounting, room service, and other costs, and, guests can use the hotel web application to avail services like room service, restaurant reservations, etc.
In a survey, 62% of guests said they prefer to check-in and check out using a hotel app. Meanwhile, 30 percent prefer to use a website, leaving only eight percent of respondents who prefer to use a public kiosk.

In-app Concierge and AI Chatbots
74% of guests appreciate hotels/resorts that customize messaging and offers. In-app messaging is an effective way of grabbing guest attention and engaging with them as it can target guests through their preferred communication channel. Since it helps respond to guests' immediate needs, it is the most convenient and pertinent for upselling and concierge. Customers who have downloaded the app can communicate directly with staff using their preferred means of communication.
A big part of the concierge role is the development of meaningful relationships with the hotel guests. This way, you can better understand their needs and enhance their experience. Unfortunately, due to inefficient activity booking methods and the lack of a hotel concierge app, they often lack the time needed to do that. With the hotel digital concierge app, guests can book with a click of a button (literally), and thus your concierges have more time to come closer to your customers.
Sometimes it is not possible and efficient for you to always be available for in-app chat. AI chatbots are taking over the hospitality industry for the immediacy they will address your guest's queries. Any problems that your guests have about booking a room or even finding a perfect room according to their budget on your app can be solved immediately with personal recommendations by chatbots. Chatbots can answer any queries that your guest might have about your hotel, and can even result in a direct booking.
BigData and analytics to make better decisions
As a property manager, it is necessary to have the data and in the correct form, to guide your decisions. With digital concierge, you can see a breakdown of your activity booking allocations, revenue, and expenses, helping you better organize your selling methods and empowering decision-making. Lynx offers powerful reporting so you can make informed decisions.
Guest Feedback and Loyalty Program
A feedback management system helps you drive hotel revenue. Moreover, a hotel revenue management system can help you manage your online persona and reviews on various portals.
According to Statista.com, by 2023, 76% of the total revenue in the hotel industry will be generated through online sales. Leads may come from third parties and booking direct. Hotels have to pay up to 22% commission to OTAs, and that is why they are prioritizing direct booking strategy.
A loyalty scheme as a part of your hotel's white-label app encourages direct bookings by offering discounts and special offers thus avoiding OTA commissions. They also provide a closed marketing group for upselling onsite services and facilities.
Conclusion
In this competitive hospitality industry, smart technology enhances your guest's experience and gives you a competitive edge. Smart Technology helps your hotel generate revenue, a better guest experience, a significant improvement in your hotel reputation, and a more effective running business.
Book a 15-minute demo to understand how we can help you use technology to boost your revenue.