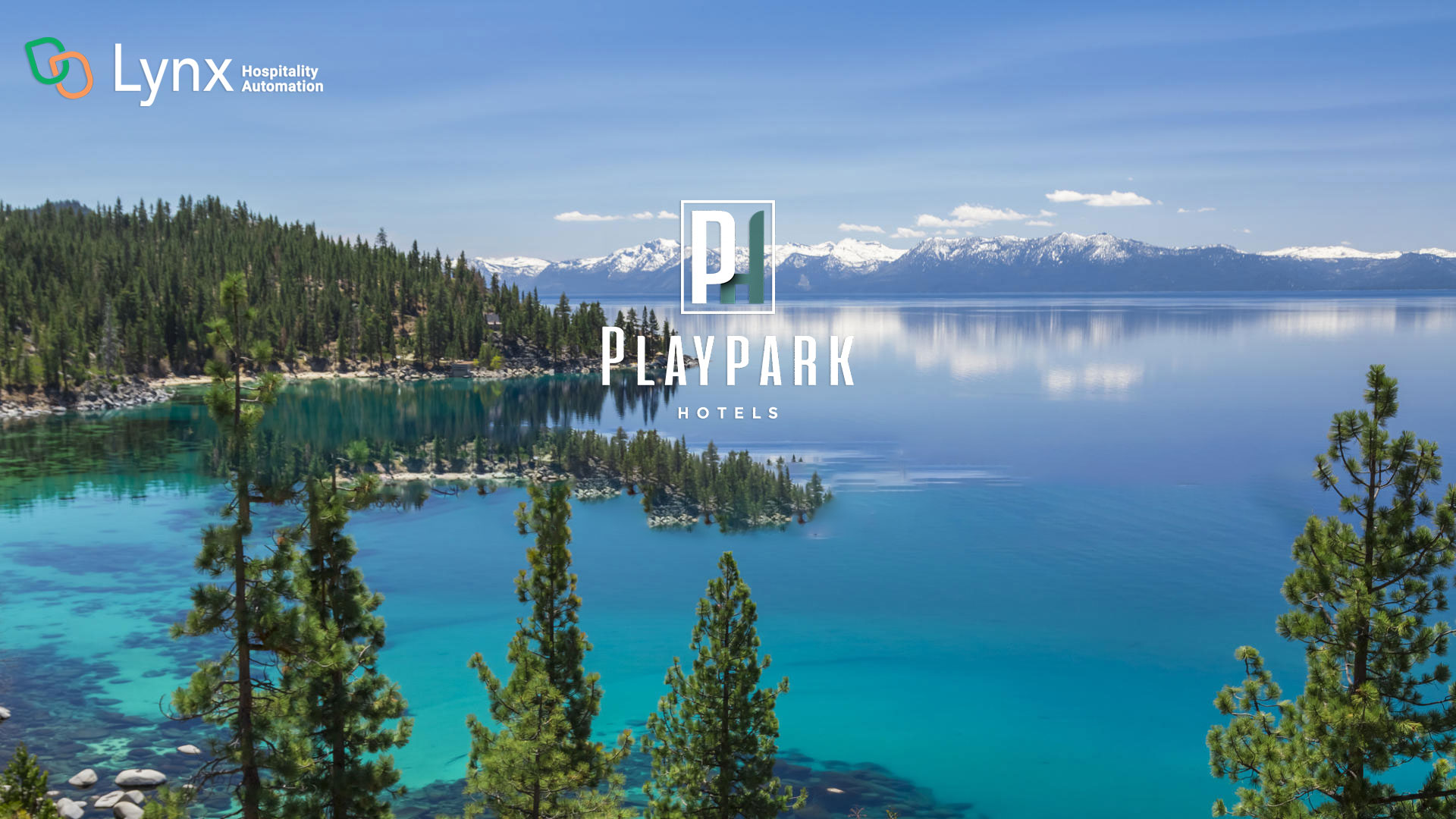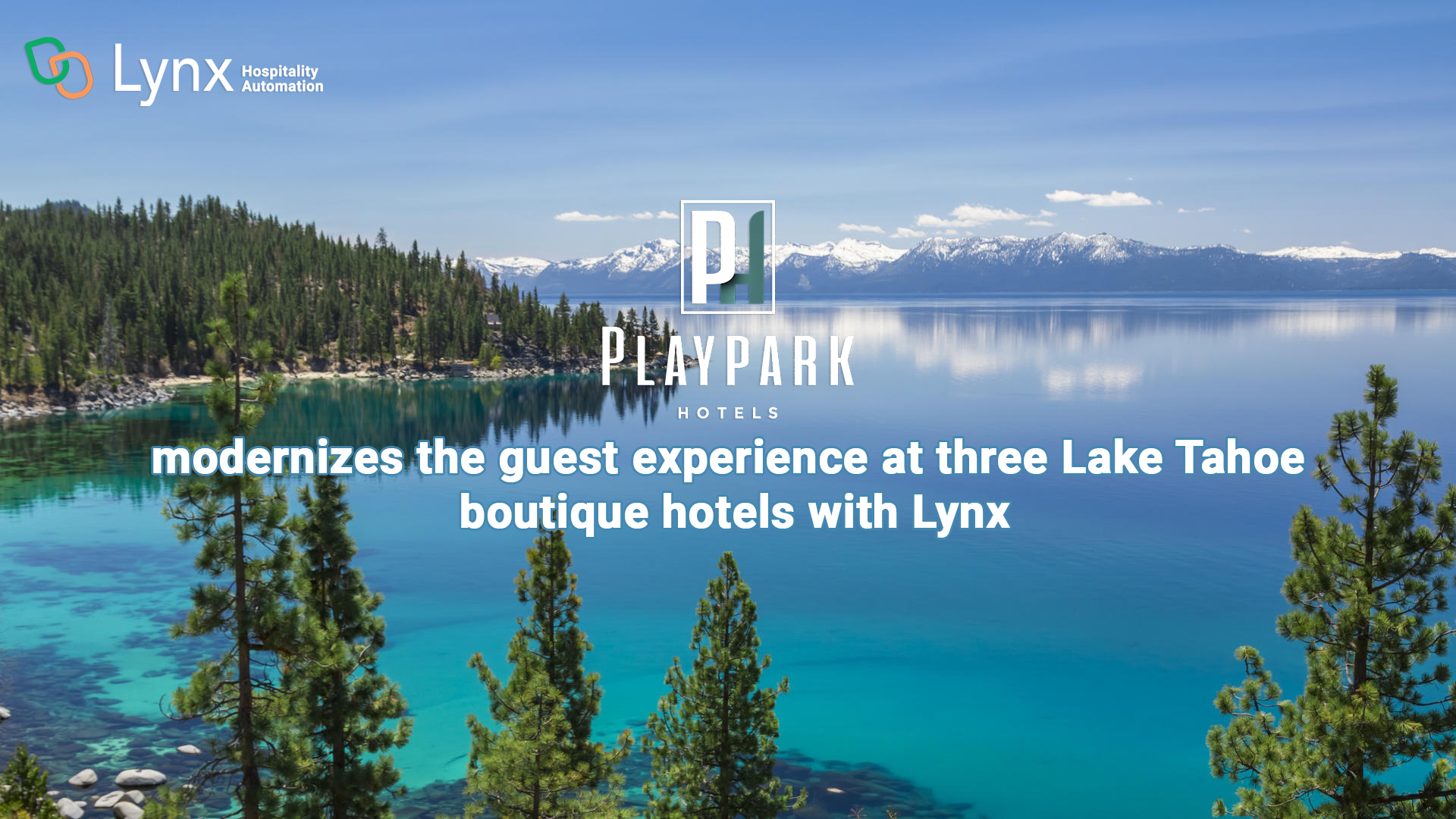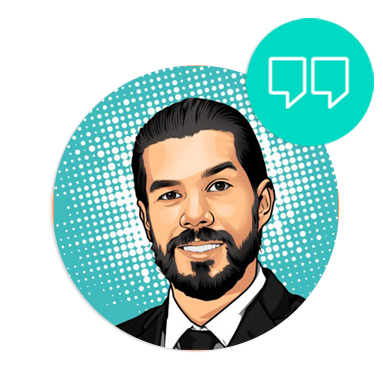 "Experience is everything. We've created a fully contactless experience with Lynx that gives guests a hassle-free experience while keeping our overhead costs low."
Ulysses Baltazar, Chief Technology Officer at Playpark Hospitality
Over the past few years, Playpark Hospitality has been busy. They acquired and refurbished three older motels, automated operations, and developed an entirely new guest experience. Their team is focused on providing a hassle-free, contactless experience that enables guests to enjoy the Lake Tahoe region and get out and play. They started with Playpark Lodge and have expanded the concept to The Jeffrey and Firelite Lodge.
Key Insights
10% increase in direct bookings via organic search
1,350 Google reviews
53,000 self check-ins
Onboarding new hires in less than two weeks
The challenge
Needed technology solutions that could help them scale
Playpark Hospitality had previously used a Property Management System (PMS) but quickly realized they needed a platform built for boutique hotels that enabled them to scale. They required a platform with an expansive marketplace of connected technologies to enable an automated and fully contactless experience. Due to poor local internet connection, they also needed a reliable door lock management solution that worked in their region and offered an offline mode of operations. Their previous provider was falling short since it did not create access codes or digital keys in advance, and their guest experience hinged on internet connectivity at the precise time of check-in.
Payments were also a headache for Playpark. Its payment processing system was separate from the PMS, so all payment information had to be reconciled manually between the two systems. If an automated payment token expired, the payment wouldn't go through, and staff had to spend time researching and reissuing the payment capture request. Refunds and payment adjustments were documented in the PMS but then had to be manually entered for processing in the payments platform. "There is nothing more annoying than using multiple platforms to deal with payments," notes Ulysses Baltazar, Chief Technology Officer at Playpark Hospitality.
After seeing reviews online of Lynx and Cloudbeds' recent HotelTechReport awards, Ulysses saw a clear synergy between Playpark, Lynx, and Cloudbeds' vision. Since joining, Playpark Hospitality has continued to get more out of the Lynx, and Cloudbeds platforms. They've added new products and services to reduce overhead, drive more direct bookings and improve the guest experience.

The Solution
A relationship built around shared success
When Playpark Hospitality was looking to switch platforms, they wanted a company with excellent training and support. Since moving to Lynx and Cloudbeds, every new Playpark guest service agent must Lynx's training sessions and enroll in Cloudbeds University, and go through all the tutorials and training within the first seven days, allowing Playpark to quickly onboard new hires. "In as little as two weeks, we have had agents ready to run shifts by themselves. And honestly, the biggest help has been Lynx's operation automation and live training sessions," says Ulysses. Cloudbeds offers live chat support directly from the platform.
They now have a Customer Success Manager dedicated to their account, which Ulysses says "is like a cherry on top." The team at Playpark knows they have the support every step of the way and have recently participated in pilot programs to gain early access to new Lynx & Cloudbeds products and services.
"Lynx is more than the software. It's about support and the relationship. No software will be perfect. While the technology is solid and continues to innovate, the relationship with the team at Lynx & Cloudbeds stands out to me the most."
Creating a contactless experience with the Cloudbeds API and Marketplace
With the Cloudbeds Marketplace and API, Playpark Hospitality can connect to leading technology partners to deliver the best guest experience. They were initially introduced to the power of Cloudbeds API through Lynx, the self check-in system.
Lynx was already compatible with Playpark's existing hardware, which meant the switch was easy, inexpensive, and could be done remotely. Lynx offers phone support and live training sessions which have been instrumental to Playpark's onboarding success. Its compatibility with 300+ smart devices gave Playpark peace of mind that Lynx will be the right partner as Playpark grows and its technology needs evolve.
"Lynx is truly innovative and works seamlessly with Cloudbeds. Reservations sync from Cloudbeds to Lynx in just a few seconds, and time-sensitive codes are created on the lock right away increasing the reliability of our contactless check-in multiple folds. The most interesting aspect of the integration is Lynx also updates Cloudbeds stays to checked-in/out based on real-time guest engagement. This real-time update from Lynx has streamlined our operations, and we rely on it for every turn," says Ulysess.
Adding Cloudbeds Payments to their toolbox
The beauty of the Cloudbeds platform is that it is ever-expanding. Payments had historically been a pain point for the Playpark team, yet that changed with Cloudbeds Payments. "Cloudbeds Payments was a no-brainer for us. Everything is already set up and connected, allowing us to manage all payments and refunds within the platform." The processing fees are lower with Cloudbeds Payments, creating a cost-saving for Playpark.
Results
10% increase in direct bookings in a competitive market
Since switching to Lynx & Cloudbeds, Playpark Hospitality has seen a 10% increase in direct bookings over the last six months. More impressively, they have done this without an increase in their marketing budget but instead focused on optimizing for organic search and gathering guest reviews as part of the guest journey. Ulysses notes that this "feedback lets us know we are on the right path."
As Playpark Hospitality continues to optimize its systems and processes, they are participating in Cloudbeds' Amplify Pilot program, a done-for-you digital marketing service. Playpark Hotels will be competitive on all paid metasearch engine results with strategic ads placed across Google Hotel Ads, TripAdvisor, and Trivago.
53,000+ self check-ins completed seamlessly
Since switching to Lynx, Playpark has been able to welcome guests without worrying about internet connectivity. Time-sensitive codes and digital keys ensure guests can access their rooms securely and only for the duration of their stay. Guests can automatically request early check-in and late check-out through Lynx. Guests love the contactless experience, and the Playpark team loves the reduced burden on front desk staff.
1,350 Google reviews and counting
The Playpark team understands the importance of guest reviews and has implemented an automated system to collect them. Across its three properties, they have over 1,350 reviews on Google alone.
Through integration with a Cloudbeds Marketplace partner, they have a system to measure guest sentiment during their stay. If the guest has left a score of 3 and above, Playpark automatically sends a text message to leave a public review 24 hours after checkout. They have a subdomain, so it's easy for guests to leave a review on Google. After leaving a review, the guest gets a 15% promo code for their next booking.
The results speak for themselves, Jeffrey Hotel has a 4.7 rating with 311 Google reviews, the Firelite Lodge has a 4.7 with 438 Google reviews, and the Playpark Lodge has a 4.7 rating with 627 Google reviews.
9,200 real-time workflow notifications
Playpark has implemented several operational workflows for each property through Lynx. Knowing when the guest has checked out, housekeeping and inspections have been started and completed, and the room is ready for the next guest is essential for achieving operational efficiency. Receiving these real-time alerts gives the operations team more visibility in the field.
What's next? Playpark Hospitality aims to push innovation forward and drive more direct bookings. They are looking at Amazon lockers for guest storage, an NFT project, and continual improvements around operations and guest satisfaction.