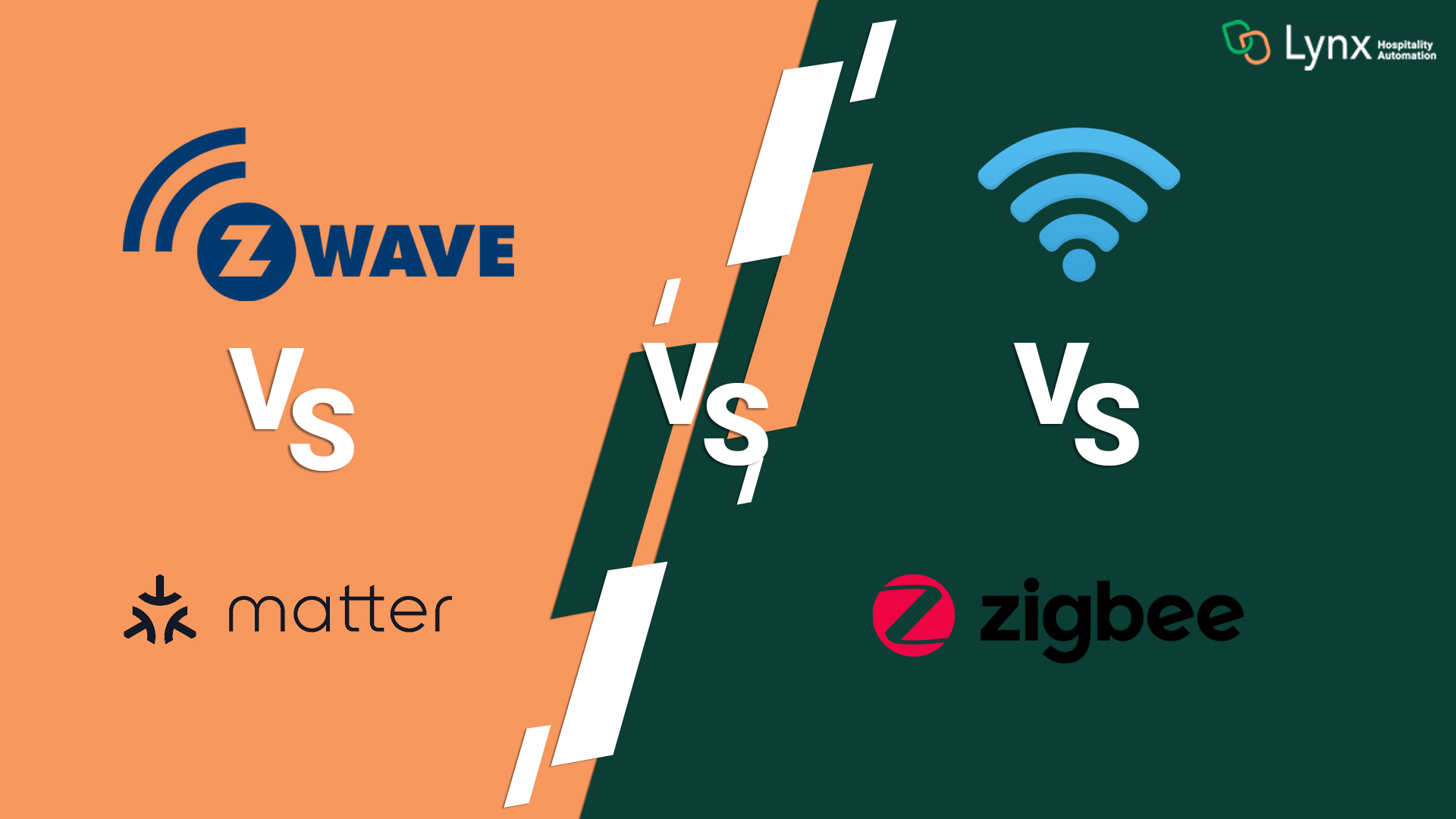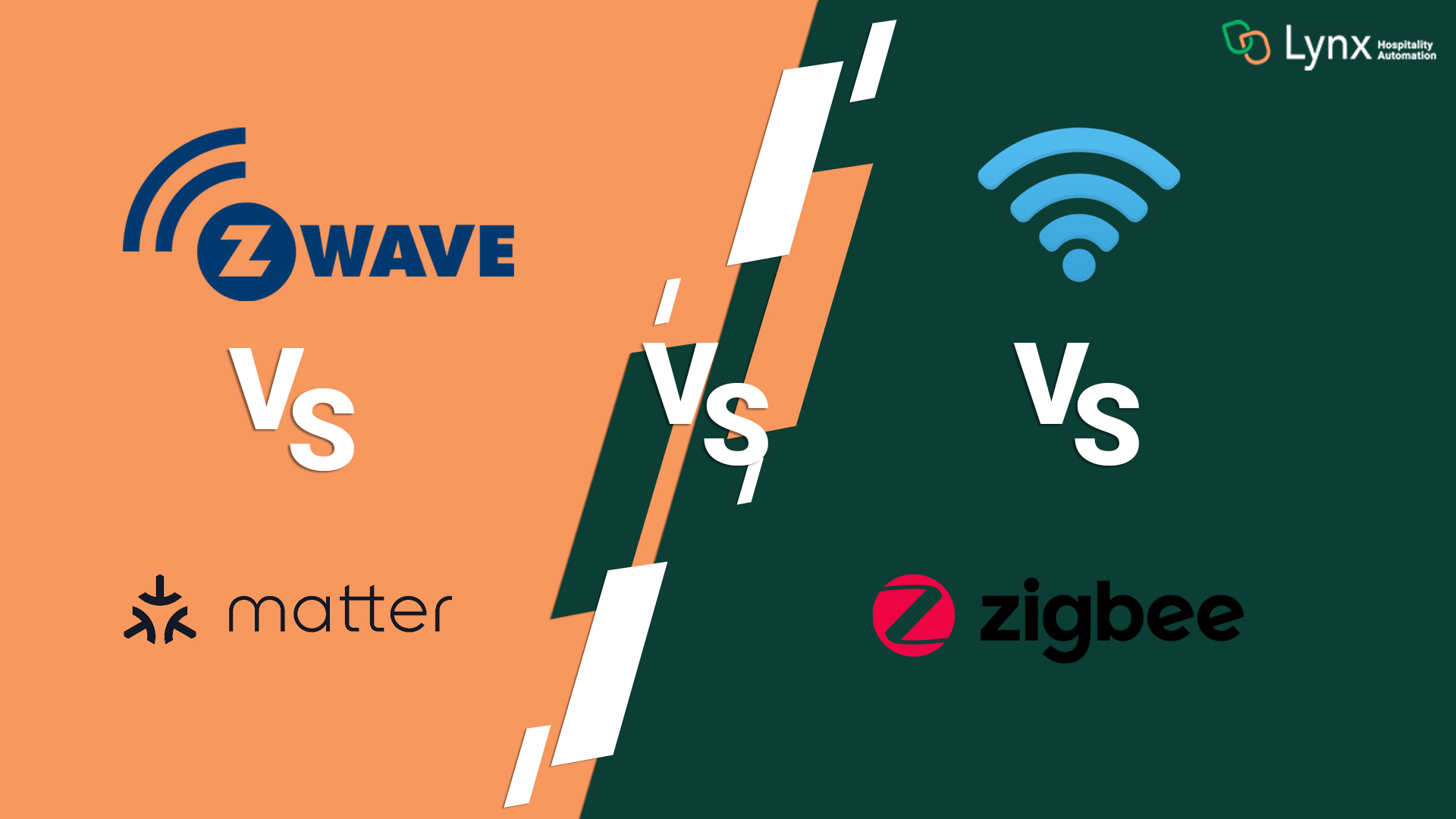 Smart locks come with a wide range of functions, so understanding the different types can help you decide which one is better for your property. There is a lot of noise and we hope this post will bring some clarity.
You can choose to install a smart lock that fits over your existing door hardware. Our team will help you choose the best smart lock for your present setup. Lynx experts will perform a gap analysis and let you know how to decide between smart lock technologies to ensure you have got a smart-lock system in place that meets your needs today and into the future.
A smart lock needs to be able to communicate with the rest of the smart devices of your property and perhaps with your phone. Most will do that using one of four these communication protocols: Bluetooth, Z-Wave, Zigbee, or Wi-Fi.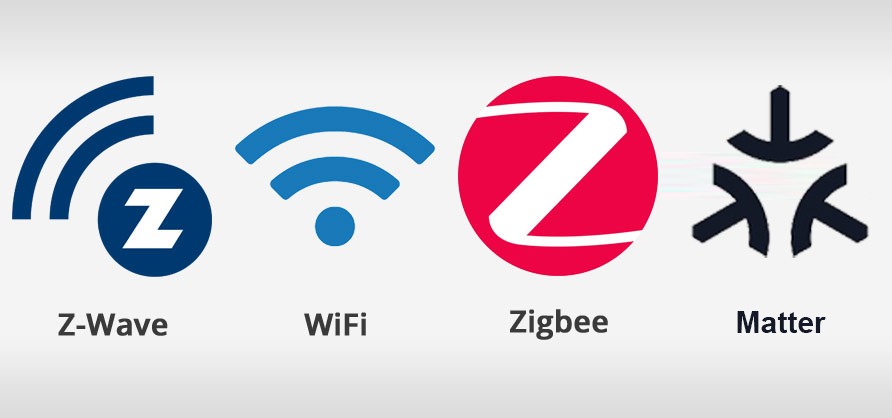 There are pros and cons to each, so you will want to be sure to understand the differences before making a purchase.
Z-wave Smart Lock
Z-Wave and Z-wave Plus is the most widely used wireless technology designed for smart homes. In this writing, there are more than 3,000 Z-Wave certified products worldwide. Widespread interoperability played a very significant role in helping Z-Wave achieve the highest rate of industry adoption. Big tech players such as Samsung, Google, and Amazon use and back this technology. It does require a Z-wave gateway (also referred to as a hub or bridge) that connects to your internet (ethernet or using Wi-Fi).
Z-Wave operates on a completely different wireless frequency that will not conflict with your Wi-Fi network signal. Z-Wave is a mesh technology that strengthens the network with several connected devices. Z-wave is popular as smart-property technology, powering locks, lights, sensors, thermostats, etc. 

Pros –
Power – Z-wave consumes very little power which is very important for a smart lock that runs on AA batteries

It can talk to other smart devices. For example with Lynx when someone opens the smart lock we can automatically turn ON the lights.

Extremely secure – uses 128-bit security, same as your online banking.

Lots of devices such as Yale, Samsung, Smarthings, Schlage, etc
Cons – 
It requires hubs as external hardware to connect with your network.

Still dependent  on your internet connection
Example
Yale YRD216-ZW2 (the most popular smart lock)
Zigbee Smart Locks
Zigbee is the more reserved cousin of Z-Wave. This technology was developed and standardized by the Zigbee Alliance in 2003. Like Z-Wave, it is also a low-power 'mesh network' technology.  In today's world lot of people take the liberty to assume that Z-wave and Zigbee are the same. And from a layman's perspective, they are the same.
Zigbee frequency is much faster at getting data to and from your device. It can also connect to more devices. 
Pros – 
Zigbee locks are much faster than other locks.

Zigbee can connect multiple devices in a mesh network.

These devices have AES-128 encryption, which financial institutions use because it's so secure.

Zigbee can connect a massive 65,000 devices at one time. 
Cons – 
Zigbee can interfere with your wireless network as it operates on 2.4Ghz
Example
WiFi Smart Locks
A smart lock is a Wi-Fi smart property device that allows users to lock and unlock a door by sending secure signals from a mobile application on their smartphone, computer, or tablet.
WiFi smart locks connect directly to the internet using your local wifi, similar to your phone or laptop. Once the lock is connected to the internet, users, guests,s or 3rd party automation companies like Lynx can control it from anywhere. You can also track opening and closing history and share e-keys with family, guests, repair technicians, or other trusted individuals. Now, no more making copies of keys and trying to remember who has them!
Pros –
No additional hardware is required. The installation process is very smooth.

It uses your existing wifi

Without any additional hardware, scaling this solution as your business grows is more facile and affordable.

With a software suite like Lynx, you can easily create schedules by the door or by groups of doors, and you can easily track when cleaners, vendors, maintenance, and visitors are entering your property.
Cons – 
Power Drain – Wifi is a power-hungry protocol. The locks will drain the battery very quickly

Does not interconnect with other smart devices

Few reliable direct wifi smart locks are available

Direct Wifi locks are still in Gen 1 phase

Interference – We have a lot of devices on the same frequency which could cause interference
Examples-
Matter
The matter is a new smart property interoperability protocol launched as a joint effort by a handful of the industry's biggest players. Over 170 companies are involved, with Apple, Samsung, Amazon, Google, and the Zigbee Alliance being the most prominent names. The matter is still in the future and seems promising but only time will tell if there is adoption. 
The goal of Matter, then, is to be an interoperability protocol with standard data models that ensure smart property devices can work across different ecosystems. So, an Amazon Echo Show display should hypothetically be able to work as seamlessly with a Google Nest doorbell as it does with its Ring offerings, for example. 
Backward compatibility is baked into the matter so your Z-wave lock would be able to work with the matter in the future.
Conclusion
Locks have gained considerable ground in recent years in reliability and functionality. While you will likely find all these technologies in locks available on the internet, before making any decision take some time to understand what you and your property want your smart locks to do for you. If still confused, talk with an expert who can guide you through the full complement of features of smart locks powered by Wi-Fi, Zigbee, Matter, and Z-Wave, so you can make the best decision.